A while ago I had a chance to visit Petticoat Lane in London's colorful East End.
"The Lane," as it's called by the locals, is a working-class street market where vendors hawk their wares in loud, cockney accents.
Perhaps the most impressive vendor of all was a fellow who was selling one of those "Veg-o-matic"-type kitchen gadgets that slice, dice, chop, etc. I stopped to hear his rap and let me tell you, this guy could sell!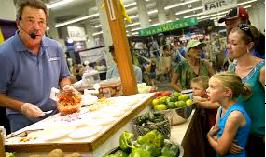 He made sure we couldn't live without little roses made from a tomato. Or exist without a french fry, fifteen inches long, extruded from a single potato.
Yes. He was fabulous, and his pitch ran for a good fifteen minutes. While he was working no one walked away. Why did he have us in the palm of his hand? Because he always had something new to show us. He
was always
engaging.
That's the lesson you should remember the next time you have to write (or review) a landing page or sales letter:
The simple rule: The page isn't too long if it holds the reader's interest!
Believe me, long copy on the web can work as I've proven time and time again.
Want to see an example of a heavy-copy
web page that worked well?
Here's what my client, Murray Bradford, had to say about the results my copywriting generated . . .
"Hey, Ivan, your new long-copy web page increased our free-trial click-through rate by 45%! . . . an incredible increase and a real money-maker for us!"
The punch line? Your readers will stay with you just as long as you're holding their interest, identifying with their "pain," and showing them how you can make that pain go away.
Maybe a short page or letter is all you need for a simple lead-generation project. Fine. Go short.
But if you've got a complex product to explain, or there's some heavy-duty skepticism you have to overcome, you may need to do a fair amount of writing. That's not a problem. You simply need the space to make the sale.
Just remember . . . stay lively, interesting, engaging, and human, and you'll always keep your audience with you and on your side.
It works for Veg-o-
matic. It will work for
you
.